Management Plan
The group company has formulated the Mid-Term Management Plan which counts 2019 as the first year and 2022 as the final year.
This is an extract of the whole plan; please refer to the original material for the whole picture of the plan.
Direction of Medium-to-Long-Term Management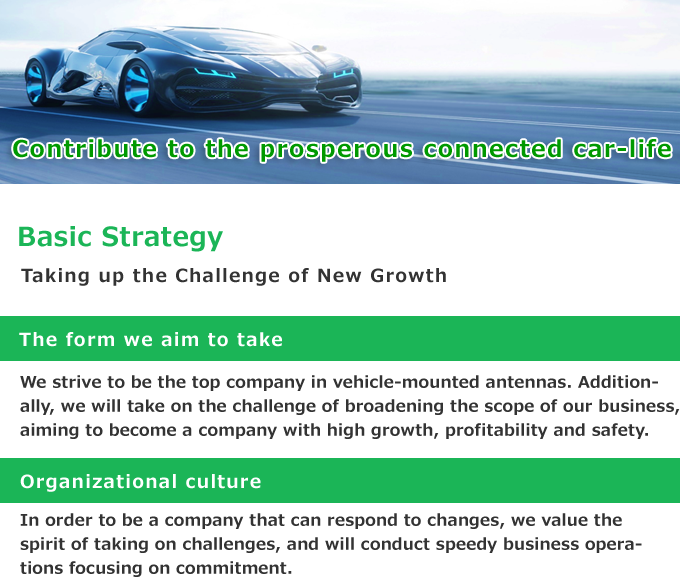 Basic Concepts of the Medium-Term Management Plan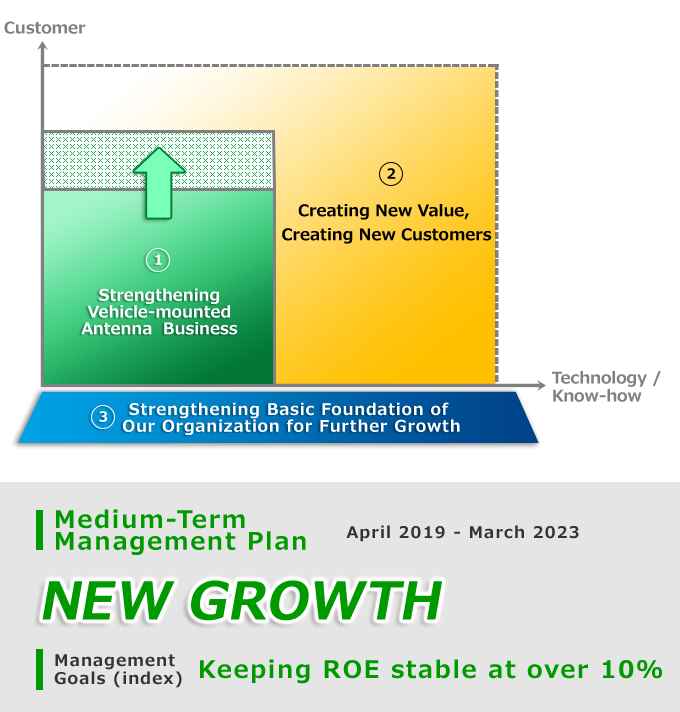 (1)Strengthening Vehicle-mounted Antenna Business

Strengthening of product development leading the advanced communication i.e. 5G.

Advancement of manufacturing looking ahead of autonomous driving era.

Additional evolution of cost structure reform.

Sedulous challenge for expanding shares.
(2)Creating New Value, creating New Customers

Development of vehicle-mounted antenna business
Provide products contributing to advancement of vehicle-mounted communication applying the technological resources.

New Business
Establishment of New Business that takes advantage of our organizational strengths and applies our proprietary technologies.
(3)Strengthening Basic Foundation of Our Organization for Further Growth

Strengthening our planning function in order to respond to environmental change.

Fostering a corporate culture with a sense of speed by introducing new target management approach.

Adding human resources and building a new education system looking ahead of the future.

-Strengthening the group's overall strengths through collaboration between the head office and the group companies.
   -Advancing managerial accounting for establishing method of management control promoting business management.
   -Enhancing global governance with an eye to the expansion of our range of business.