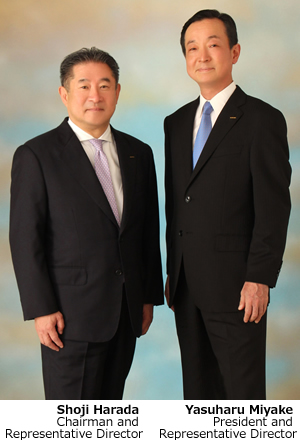 The global auto market has been expanding every year on the back of the increasing automobiles in emerging markets. In terms of technological field, the introduction of auto-driving technologies, evolution of communication technologies and shift in the automobile's value from 'owning' to 'sharing,' are changing our business environment greatly.

HARADA is committed to fulfilling customer and market needs precisely in response to such market/environmental changes through provision of automotive antennas as well as various products and peripheral technologies associated with automotive antennas.

Despite the environmental changes, there are things which haven't changed. They are; HARADA's 'Monozukuri (manufacturing)' spirits, which haven't changed since our founding in 1958, as well as the accomplishment and experience as the pioneer of automotive antenna supplier taking lead of the world.

For the four-year period of Medium-Term Management Plan, 'NEW GROWTH', we have put the 'challenge for further development' as the basic strategy. By actively promoting each strategies of; 'strengthening of vehicle-mounted antenna business', 'creation of new value and customers' and 'strengthening of basic foundations of our organization which acts as the basis for further development', we will contribute to realizing the prosperous connected car-life by sensing the future of the automotive industry, as the top-player specialized in vehicle-mounted antenna.

As a group of professionals seeking for the best, we will stick to our corporate philosophy, "CO-CREATION & INNOVATION," and strive to improve the corporate value further.