HARADA serves all major vehicle manufacturers worldwide as a world-class Tier 1 supplier, with an established footprint that includes more than 14 locations in 9 countries. These locations not only serve their local area, but also form cross-regional sales (CRS) teams to strengthen cross-border collaboration, enabling us to uniformly serve every market with our quality services.
As the specialist supplier in automotive antenna systems, HARADA acknowledges the global trends, leverages our rich experiences and provides the best solutions to meet customer needs and market trends.
We deliver full service in terms of automotive antenna systems, aiming to ultimately function as if we are an antenna division of each vehicle manufacturer.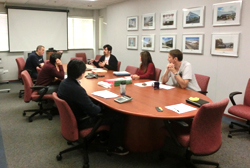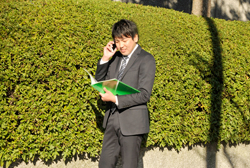 HARADA brings our customers the best-in-class solutions, including automotive antennas, coaxial cables, amplifiers and noise filters, delivered by the best engineering teams located in Japan, the UK, China and the US. Especially, our UK research center studies breakthrough technologies and develops industry-leading products at its fully equipped facility. Also, every center is armed with sufficient measuring equipment, enabling measurements using actual vehicles, when needed, in large anechoic chambers and open sites.
In addition to the 4 centers above, our global R&D network also covers all the technology units at our plants. Benefitting from the network, HARADA delivers an array of options to our customers ranging from low cost to high performance for global, entry-level platforms, or luxury vehicles. We are also capable to bring our customers the informative insight as an output of this network.
HARADA, as a specialist supplier in automotive antenna, will continue to drive the innovation in products as well as services.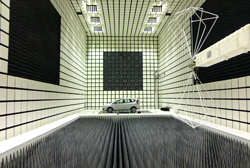 Large Anechoic Chamber
in Shanghai, China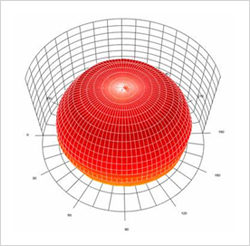 3D Results of Antenna Performance
HARADA, in order to quickly respond to customer needs from the aspect of QCD (quality, cost, delivery and logistics), has built a robust infrastructure for original design, engineering and manufacturing of products, with strategic allocations of our production facilities around the world.
Aware of customer satisfaction, we are continually pursuing production improvements and innovations in both, manufacturing and production technologies, in addition to strengthening our global production presence.
To offer uniform quality products from our production sites in China (Dalian and Shanghai), the Philippines, Mexico, Vietnam and Japan (Niigata), we have been continuously standardizing production processes as well as establishing our strict Quality Management System. In procuring components and materials, we are increasing local purchases by seeking best quality and competitive pricing.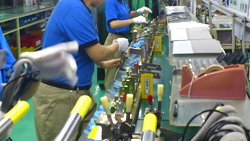 Components Assembly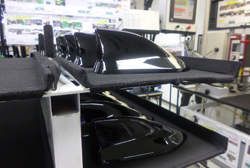 Pre-Shipment Final Inspection
HARADA serves the major automakers as Tier 1 supplier, as well as automotive suppliers as Tier 2 supplier worldwide. We ensure the every information from customers is confidential while improving our services to every customer in the world through well-established enterprise-wide network.
Primary Customers (listed randomly)
<Automaker>

Adam Opel AG, Anhui Jianghuai Automobile Co., Ltd., Aston Martin Lagonda Ltd., Audi AG, BAIC Motor Corporation Ltd., Bentley Motors Limited, China FAW Group Corporation, Daihatsu Motor Co., Ltd., Fiat Chrysler Automobiles N.V., Ford Motor Company, General Motors Company, Great Wall Motor Co. Ltd., Guangzhou Automobile Group Co., Ltd., Hino Motors, Ltd., Honda Motor Co., Ltd., Hyundai Motor Company, Isuzu Motors Limited, Jaguar Land Rover Limited, Kia Motors Corporation, Mazda Motor Corporation, McLaren Group, Mitsubishi Fuso Truck and Bus Corporation, Mitsubishi Motors Corporation, Nissan Motor Co., Ltd., Proton Holdings Berhad, SAIC GM Wuling Automobile Co. Ltd., SAIC Motor Corporation Limited, South East (Fujian) Motor Corporation Ltd, Subaru Corporation, Suzuki Motor Corporation, Tesla, Inc., Toyota Motor Corporation, Volkswagen AG, Volvo Car Corporation, Yulon Motor Co. Ltd., Zhejiang Geely Holding Group Co., Ltd.
<Automotive Supplier and Others>

Asahi Glass Co., Ltd., Calsonic Kansei Corporation, Central Glass Co., Ltd., Clarion Co., Ltd., Delphi Automotive PLC, DENSO TEN Limited, Furuno Electric Co., Ltd., Fuyao Glass Industry Group Co. Ltd., Harley-Davidson, Inc., Komatsu Ltd., Mitsubishi Electric Corporation, Nippon Sheet Glass Co., Ltd., Oki Electric Industry Co., Ltd., Panasonic Corporation, Sumitomo Wiring Systems, Ltd., Visteon Corporation, Yamaha Motor Co., Ltd., Yazaki Corporation