Listen to Customers
We listen to the voices of our customers, and analyze what kind of products would solve their problems and satisfy them as well as the end users.
Also, as an automotive antenna supplier specialist, we propose products that suit different regions and ranks of automobiles based on our structured marketing.
HARADA supports all types of automotive wireless communication, including radios, televisions, phones, navigation systems, ETC and so forth.

Product Development
HARADA designs products and develops prototypes. We maintain close communication with our customers and develop products that fulfill their needs. By utilizing our facilities and equipment such as our large anechoic chambers and electromagnetic field simulator, we aim for efficient and highly accurate development.
During the development stage, we hold a consistent awareness towards meeting demands in performance, quality and cost.
We conduct research and development not only in Japan, but also in the UK, China and the US, and are therefore capable of conducting development near customer sites.

Electromagnetic Field Simulation

Waterproof Test
Field Test
We mount our products on automobiles and run the automobiles on public roads to check and adjust product performance. We test our products efficiently by utilizing our expertise accumulated through many years of experience in the automotive industry.
At this stage, we conduct field tests in various locations across the world and eradicate any problems that arise so as to provide uniformly stable quality under any kind of condition.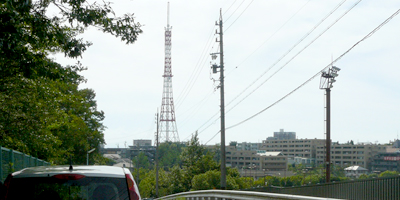 Measuring Antenna Performance near Broadcasting Tower
Pre-Production Activities
We take ample time to conduct thorough preparations prior to production so as not to face any issues once production starts. We minutely prepare everything associated to production, including arranging molds, jigs and parts, and also validate the efficiency of actual production.
At our plants, we utilize facilities such as our thermal shock testing equipment, and combined climatic and dynamic testing equipment, and conduct rigorous reliability evaluations and quality management of our products in order to prevent any malfunctions.
In addition, we build an optimal supply chain that extends from procuring parts to delivering products to our customers, and thereby reduce production lead time to the fullest extent.



Parts are placed at where they can easily be accessed to improve productivity




A standard finished product is placed at where to double check the quality of other products
Production
We produce our products at our worldwide production sites. We consistently strive to make improvements with quality and efficiency in mind at all times.
When assembling parts on our assembly line, we utilize jigs to prevent any mistakes, thereby ensuring meticulous production that is free of quality issues.
We then conduct a final quality inspection before shipping and finally deliver our products using packaging which takes into account the condition of transport to customers' production sites.

Assembly Line

Visual Inspection of Products Appearance using Lighting Device
Delivery
We deliver completed products promptly to our customers.
HARADA has locations in 14 cities in 9 countries worldwide, so we are able to support customers' supply chains by selecting the best route for each customer.

Warehouse

Shipping
The Goal
After being delivered to customers, HARADA's products are assembled in customers' assembling lines. The automobiles are then sold to consumers. It is our upmost pleasure to provide consumers with satisfactory experiences through various wireless communications, including listening to radios, watching televisions, using phones, using navigation systems (GPS), or going through ETC tollgates.
HARADA values communications with customers, and strives to reflect the voices of customers to HARADA's products.