Fin type antennas are shaped like shark fins and go by the trade name of LPA (Low Profile Antenna) at HARADA.
When first introduced to the market, the fin type antennas did not have radio functions, and instead served such purposes as mobile communication and GPS. In 2010, fin type antennas with radio functions were introduced, and have been adopted in many vehicles ever since.
In contrast to conventional black rod type antennas, they were developed with an emphasis on design as to synchronize with the car body. These antennas are not prone to theft as they are fully attached to the car body, unlike rod type antennas which could be dismantled. Also, since they are short, drivers need not worry about bumping their antennas in garages with low ceilings.
Currently, composite types of these antennas that support various media in addition to radio are constantly being introduced to the market on the back of the evolving technology.
Features
Emphasis is placed on car design, and the color of antenna can be adjusted to match that of the car body.
High quality radio reception is ensured owing to our unique patented technology.
Wind noises are reduced compared to rod type antennas.
The cover can be designed as double covers and hence, outer cover can be attached at dealerships.
The antennas are attached by laser welding without using any screw, allowing lower profile and lighter weight. (The antennas can also be designed to use screws.)
The antenna base is plastic, allowing better performance and lighter weight.
The antennas can be composite by combining multiple media.


The antennas can be developed in various sizes and shapes according to the car type as shown below.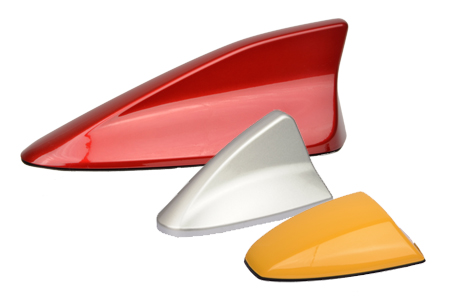 ---