Environmental Activities
Basic Environmental Principle
Harmony with nature is at the core of HARADA's management policy, and as a supplier and distributor of automobile products, we contribute to developing a sound and prosperous society through our business activities.
Basic Environmental Policy
We strive to reduce greenhouse gas emissions that affect climate change (carbon neutrality), conserve resources, reduce waste and increase 'green purchases' under our Guidelines of Action to recycle, reuse, save resources and reduce weight.
We set an environmental protection related theme in accordance with our management policy, reflect it on our management and promote awareness in protecting biodiversity and ecosystem.
We develop and deliver products that reduce environmental loads and meet customer and market needs.
While ensuring institutional adherence to environmental laws and regulations, as well as demands of customers, we aim to prevent environmental pollution and also actively control, reduce, and replace hazardous substances.
We set objectives and targets in accordance with our environmental policy, facilitate our environmental management system, and periodically review and constantly enhance our activities.
We disseminate our environmental policy to all directors and employees, thereby promoting understanding and awareness of environmental protection.
We disclose our environmental policy.
April 1, 2022
Takashi Aoki
Chairman
Environment Preservation Committee
HARADA INDUSTRY CO., LTD.
Environmental Management
◆ Organization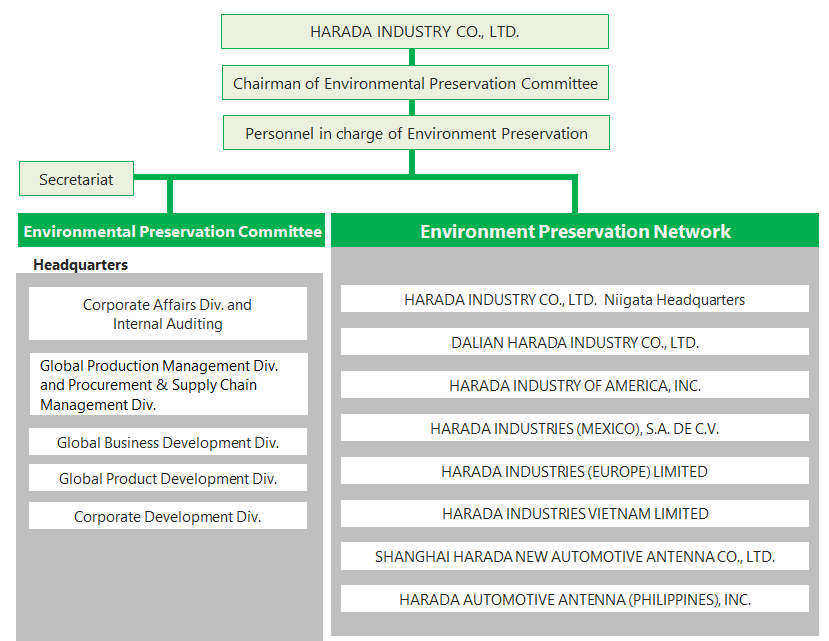 ◆ Acquisition of ISO14001 Certifications
Starting with HARADA INDUSTRIES (EUROPE) LIMITED in April 2000, the following group companies have acquired the ISO14001 certification.
List of companies that have acquired ISO14001 certifications
Company
Scope of Registration
Certification Body
Date of Acquisition
Certificate
HARADA INDUSTRY CO., LTD.
HEAD OFFICE
Development and sales of antenna for automobiles and information telecommunications field and its peripherals
JSA
August 2001
PDF
(194KB)
HARADA INDUSTRY CO., LTD.
Niigata Headquarters
The design / development and manufacture of antenna for motor vehicles and communication apparatus
JQA
April 2001
PDF
(2,500KB)
DALIAN HARADA INDUSTRY CO., LTD.
Manufacture and sales of manual & automatic antenna for automobile, coaxial relay of automobile antenna, air control actuator of automobile
BV
June 2006
PDF
(237KB)
HARADA INDUSTRIES VIETNAM LIMITED
Manufacture of car antennas, extension cable and their accessories
BV
April 2002
PDF
(480KB)
HARADA INDUSTRIES (MEXICO), S.A. DE C.V.
Design and manufacturing of coaxial cable, electric cable, electrical & electronic antennas, extensions and actuators for original equipment for automotive customers
SAI
GLOBAL
April 2005
PDF
(225KB)
HARADA INDUSTRY OF AMERICA, INC.
Registration covers the Environmental Management System for the sales, design and distribution of antennas, hidden systems and actuators for automotive customers
AVU
October 2011
PDF
(343KB)
HARADA INDUSTRIES (EUROPE) LIMITED
The procurement, repackaging and supply of automotive antenna
BSI
April 2000
PDF
(515KB)
SHANGHAI HARADA NEW AUTOMOTIVE ANTENNA CO., LTD.
Design and manufacture of antennas for automobile and mobile phone
SGS
November 2005
PDF
(258KB)
HARADA AUTOMOTIVE ANTENNA (PHILIPPINES), INC.
Manufacture of cables, amplifiers, antenna elements and manual antenna for automobiles
SGS
October 2000
PDF
(647KB)
◆ Environmental Education Programs
We deliver our products to automakers across the world. All automakers are subject to the directive of the European Union addressing the end of life for automotive products (ELV Directive) and the Restriction of Hazardous Substances Directive (RoHS Directive).
In order to comply with these regulations, we have launched initiatives in reducing and abolishing the use of hazardous substances.
In reducing and abolishing Substances of Concern (SOC), it is imperative to ensure cooperation not only within our Group, but also among our suppliers, who provide parts and materials to us.
We, therefore, have been conducting sessions since March 2005, targeting local suppliers at each of our production bases to present our plans and initiatives in reducing and abolishing SOC (including requesting submission of certificates of non-inclusion of specified substances etc.). With the cooperation of our suppliers, we are complying fully with laws and regulations.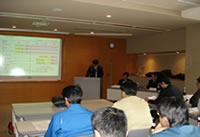 Session on initiatives to abolish SOC